I wrote about this great adventure in a previous post.
See here their "Final" report:
After 12.500 kilometers of cycling, crossing 7 countries, cycling through deserts, mountains, rain, storm, snow and valleys we made it to Beijing!
On the 6th of August the Study Road team arrived at the Dutch Embassy in Beijing where they were welcomed by the Ambassador. The program continued with lectures about Chinese environmental issues, history of Confucianism, and economy.
Sleeping in tents was not necessary anymore. The Peninsula, one of the most luxurious hotels in Beijing offered a room to each participant. So before everybody continued it's journey in a different direction they were spoiled in the luxury of one room per person, delicious breakfast, a pool and a gym.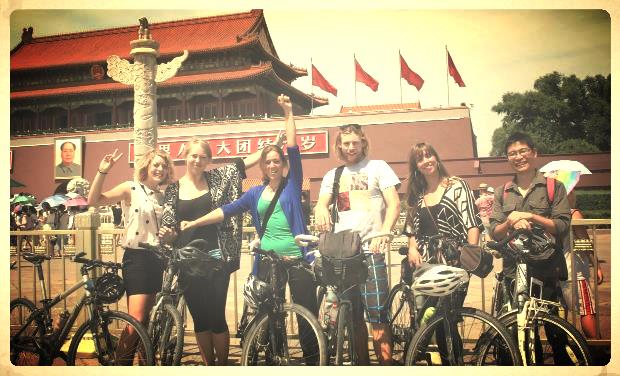 Arrival in front of The Forbidden City in Beijing
It has been a long journey with many adventures. Thanks to the enthusiasm and positive vibes of the team we made the first edition of the Study Road a success. So a big thank you to the pioneers who made the Study Road a reality and not just an idea!
And a big thank you to the participating universities, the guest speakers, the travel agencies and the volunteers that have been helping!
WE DID IT!
– Joya van Hout –
Read the full report: http://tinyurl.com/matpf6t