Test-Aankoop start meldpunt voor toestellen die te snel stuk gaan
Heel interessant initiatief en ik kan me afvragen waarom dat zoland geduurd heeft.
Ziehier het artikel:
24/11/16- Knack Moneytalk
http://moneytalk.knack.be/geld-en-beurs/rechten/test-aankoop-start-meldpunt-voor-toestellen-die-te-snel-stuk-gaan/article-normal-780817.html
For our English speaking readers
The article mentions the set-up of a new initiatiive by the Belgian organization TEST AANKOOP (Test Purchases). It wants to point out companies who use built-in obsolescence to force consumer to buy new equipment, a practice I denounce also in my book Toxic Capitalism.
More about this all in other posts.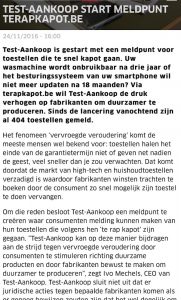 Het idee voor toestellen die te snel stuk gaan
De consumentenorganisatie wil met een nieuwe actie fabrikanten onder druk zetten om duurzamer te produceren. Als er genoeg bewijzen zijn dat een fabrikant een product bewust doet verouderen, sluit Test-Aankoop juridische acties niet uit.
Mijn reactie:
Prachtig idee. In mijn boek (Toxic Capitalism) klaag ik de vicieuse cirkel aan van kopen, weinig gebruiken, niet herstellen en terug kopen. Het ergste is inderdaad dat vandaag met alle expertise de fabrikanten het idee van "Planned obsolescence or built-in obsolescence" meer en meer toepassen. Ik verdedig met voorbeelden hoe men zelf een en ander kan herstellen. Maar producten zoals Apple iPhone opladers met de kabeltjes tonen het probleem: de isolatie is zo gemaakt dat het kapot gaat na een paar jaar terwijl isolatie van oudere kabeltjes 30 jaar meegaat. Dikwijls is het NIET moelijk te herstellen voor technische redenen. De "Repair Cafes" zijn ook een goed initiatief.