Recently I had a Q&A session in Beida on the subject, see:
http://blog.strategy4china.com/2016/09/biking-and-chinese-cultural-conflict/
While the city of Beijing has indeed made some progress, like increasing the amount of bikes for rent, coming out with new models, as well as modestly making better biking lanes, a lot remains to be done.
China Daily explained some of the recent trends:
7 September 2016 – Bicycles on a roll again
China Daily article
The point is that a new wave of consumers choses biking as a new fashion statement, buying expensive models. They want to look "cool" while bikes are mostly regarded as for people who really have little or no money. Explains why the number of bikes seems still to go down but the market size of the industry shows a strong growth.
Companies like Natooke (Iness Brunn and her fixed gear bikes) are the nice symptoms: she has attracted a lot of attention. Others are going the bamboo way. Another custom-made shop I I know is making 40,000 RMB bikes, high-tech alloys.
See here NATOOKE:
Touring Wudaoying Hutong in Beijing
http://www.beijing1980.com/?p=2734
And this article:
can-beijing-become-cyclers-paradise-again
Here a picture of a bike I saw in Sanlitun, I even had to look it up and yes, a Land Rover bike does exist! Could not figure out the model, they are on sale online. Not clear if this one has "assisted pedal power".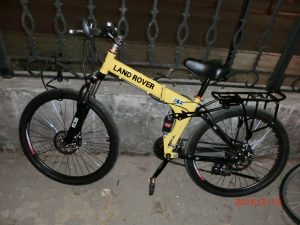 But even "e-scooters", meaning here the real big ones, are also finding a new niche through their superior power and technology: a bit like the e-version of a Harley Davidson. EVOKE is such a company. Their bike was displayed in our Rotaract Gala evening a few months ago, see:
"Rotaract Gala Event: see what you missed!"
http://www.beijing1980.com/2016/06/26/rotaract-gala-event-see-what-you-missed/
The EVOKE bike:
http://www.beijing1980.com/wp-content/gallery/160625galapicsweb/DSC00229.jpg
The China Daily article:
7 September 2016 – Putting power and pizazz into bikes
China Daily article
Many call for increased use of bikes. Much in line with what I preach is in this China Daily article:
5 July 2016 – A short ride to clean, better life and future
China Daily article
It says:
Beijing is spending about 30 million yuan this year to improve the capital's sidewalks and bicycle lanes, and keep them free of motor vehicles.
The Beijing municipal government is trying to ease traffic jams by imposing congestion fees on drivers. Since many are opposed to the move, the Beijing authorities should encourage more people to ride bicycles, because it is the best way to reduce the use of cars.
Urban planners in cities like Beijing want to emulate other cities that have admirable biking policies. A survey of the top 20 cities with the best bike systems shows Europe as the leader, with Japan as the runner-up. Beijing and other North China cities didn't fare well in the rankings, even though China is known as a bicycle-friendly country.
But cities in North China cannot use cold weather as an excuse to turn their back on bikes, because 30 percent of urban Scandinavians ride to work through winter.
And as for me, hot or cold, sun or rain, I am on my bike in Beijing